Mike Scott
Baseball on Facebook

Many times a coach or a team will have areas of concern and will need an experts help. Mike will come to a scheduled team practice or provide a private lesson created on reshaping a team trouble spot. Some examples of team instruction might be focusing strictly on the pitching staff, getting them all learning the same basic mechanics and skills needed for their team. Other instruction might be to help coaches design new team drills to maximize their practices. Any skill can be isolatede for instruction or a general team lesson could be designed to make a team perform better on the field. Team Instruction clinics are valuable to both players and coaches, everyone gets involved. Coaches will be asked to teach their players under the supervision of Mike Scott. Practices are created to bring all players and coaches together. Everyone is busy learning which produces team chemistry and a team philisophy as well as improving team skills.


Coaches Clinics are very popular among the Little League programs. These clinics are designed to get the coaches performing the same basic fundamentals as their kids will encounter during practices and games. It is important for coaches to see instruction from the players point of view, this way they get a better understanding of the pressure, nervousness, and confusing communication that can be found in most young players. Coaches Clinics are also given to coaches entering the full sized field. The coaches are still involved in the drills and instruction but here they get a further education of the new rules and strategic differences from the small field. Clinics can also be personalized for any age or specific needs of the league. Most of these clinics are scheduled indoors before the season begins, this gives the coaches a chance to take notes and prepare for their season.





Week One Highlights
Avon White with high score of 311
Jacob Giangreco with 4 Ten Pointers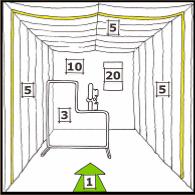 Points are awarded for where the batted ball first hits in the cage.
All points awarded ONLY for balls hit between the yellow foul lines.

1 point
for a grounder between the foul lines.

3 points
for a line drive hit into the protective L-Screen.

5 points
awarded for line drives hitting the sides or upper section of the cage beyond the foul lines.

10 points
for line drives hitting the back portion of the batting cage net.

10 points
for line drives hitting any part of the pitching machine.

20 points
given for hitting the black foam mat hanging on the back section of the batting cage net.

"Golden Ball"
swings will result in double points awarded for that swing.





Team W L Game Avg. 10s 20s

Avon White 1 0 311 4
W Hartford Blue 1 0 214 1
Canton Maroon 1 0 174 1
W Hartford Black 0 1 153 4
Canton Red 0 1 156 3
Canton Green 0 1 81 2

Player Stats Pts/sw Avg. 5s 10s 20s

Canton Maroon
R. Dlubac 30/35 0.857 2
J. Renaud 85/35 2.428 7 1
P. Bruno 31/35 0.885 3
M. Cote 25/35 0714 2
Totals 174/140 1.242 14 1
West Hartford Black
C. Cianflone 62/48 1.291 5
J. Giangreco 66/46 1.431 3 4
R. Haider 25/46 0.543 3
Boyer
Totals 153/140 1.092 11 4
Canton Red
C. Hong 60/33 1.818 5 2
J. Berry 33/33 1.000 4
T. Dufresne 61/33 1.848 3 1
J. Dest 2/33 0.060
Totals 156/132 1.181 12 3
Canton Green
T. Quinn 5/30 0.166
N. Hiscox 39/30 1.300 2 2
T. Rottkamp 12/30 0.400
T. Gibbons 25/30 0.833 2
Totals 81/120 0.675 4 2
West Hartford Blue
B. Brockway 91/30 3.033 9 1
T. Laspada 61/30 2.033 9
C. Morton 23/30 0.766 2
M. Weiss 39/30 1.300 5
Totals 214/120 1.783 25 1
Avon White
B. Angus 98/33 2.969 9 2
T. Eagle 73/33 2.212 9
E. Borenstein 80/33 2.424 8 2
T. Nyberg 60/33 1.818 7
Totals 311/132 2.356 33 4







Sunday, 1/7
3-4PM Canton Maroon
174
W. Hartford Black

153


4-5PM Canton Red 156

Avon White
311

5-6PM Canton Green

81

West Hartford Blue

214


Sunday 1/14
3pm West Hartford Black vs Canton Red
4pm

West Hartford Blue vs Canton Maroon
5pm Avon White vs

Canton Green

Sunday 1/21
3pm Canton Red vs Canton Green
4pm Avon White vs Canton Maroon
5pm West Hartford Black vs

West Hartford Blue



Sunday 2/28
3pm Canton Maroon vs Canton Red
4pm Avon White vs

West Hartford Blue


5pm Canton Green

vs W. Hartford Black

Sunday 2/11
3pm West Hartford Black vs Avon White
4pm Canton Maroon vs Canton Green
5pm West Hartford Blue vs Canton Red

First & Second Round of Playoffs
Top 2 teams get first round bye

Sunday 2/25 Championship Game

Each team will get a Warm Up Round before the game.










Home Team in

BOLD

print. Winning team in
RED
print

SEASON TWO TOP SCORES

Top 3 Team Scores One Game

311 Avon White
214 West Hartford Blue
174 Canton Maroon

All Time Top Score 426 West Hartford 1 season 2


Top 5 Player Average

3.033 B. Brockway West Hartford Blue
2.969 B. Angus Avon White
2.428 J. Renaud Canton Maroon
2.424 E. Borenstein Avon White
2.212 T. Eagle Avon White


Top Player Average Full Season

3.302 Mike Weiss West Hartford 1 season 2


Top 5 Highest Team scores ( One inning )

63 Avon White
57 West Hartford Blue
50 West Hartford Blue
49 Avon White
46 Avon White

All Time Top Score ( One Inning )
114 Points West Hartford 1 season 2


Single Round Scores

5 Swings 26 J. Renaud Canton Maroon
6 Swings 21 J. Giangreco West Hartford Black
8 Swings 24 C. Cianflone West Hartford Black
10 Swings

All Time Highest Single Round Scores
5 Swings 50 points J Renda West Hartford 1
6 Swings 50 points Carter M.. West hartford 3
8 Swings 64 points M. Sedor Canton 1
10 Swings 77 points J. Renda West Hartford 1
Perfect Rounds
( point on each swing, one inning)
Perfect 5 E. Borenstein, T. Laspada
Perfect 6 None
Perfect 8 None
Perfect 10 None


Hit for the Cycle
1-3-5-10-20 Pointers
( one game )


Hit 40 Pointers

Team Percentage % of points earned per swing
Team Week 1 Week 2 Week 3 Week 4 Week 5 Season Avg

Canton Maroon .407%
W Hartford Black .264%
Canton Green .233%
W Hartford Blue .441%
Canton Red .303%
Avon White .545%